It's that dreaded time of year – January. Christmas and New Year's are over, and now it's time to settle back into the grind for the next few months, earning money to pay off your holiday debts. In the post-Christmas period, a lot of us end up taking a look at our bank account balances and nearly going into shock. All of those presents, nights out and holiday cheer have wreaked havoc on our finances, and a lot of people report struggling to afford their day to day costs.
Does this sound a little too familiar? Hitting too close for comfort? Don't fear – we have a lot of solutions that you can use to survive the lean weeks and months ahead. Just follow these simple tips to get your finances back on track! 
It's time to get cracking – eggs, that is! Now that you are trying to live on the financial straight and narrow, you need to start cooking your own meals. You'll be amazed at how much money you can save by prepping, cooking and eating meals that you create yourself. Start by shopping the sales – compare the prices at all of the major grocery stores. Next, choose some affordable, healthy and filling recipes (think pasta, grilled chicken, roasted root veggies and homemade hummus) and prepare them at the beginning of the week. Your health might even improve as well!
By filling out surveys, you can earn valuable vouchers towards high street brands, online retail stores and more. Share your opinions on sport, entertainment, music and other current events to earn credit toward your basic day-to-day necessities. You'll be out of that financial hole before you know it!
Put on your walking shoes
Do you spend heaps of money on taxis, Ubers, the tube or your own car? Forget about it. It's time to start walking reasonable distances, and riding a bike for those further journeys. Your waistline will start to go down as your bank account savings recover!
You would be amazed at how much money you can earn by selling your old clothes, sports equipment, memorabilia and more on eBay, Gumtree and Facebook. Scour your home and start making a pile of everything that you don't use but still has some value. Older electronics, disused charging leads, gently used designer duds – they'll all fetch a pretty penny online.
Cut out the cheeky pints in favour of drinks at home
Your mates are calling you to the pub, but you know you simply can't afford it. Invest in a few drinks at the supermarket and invite your pals round instead – it's a lot cheaper and can be a lot more fun!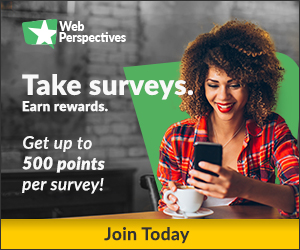 Do you have any January survival tips? Why not take online surveys with Web Perspectives and get rewarded with amazing vouchers to help you save money with your online and high street retailers purchases.
Take paid online surveys in Canada today and you can earn up to 500 points for each of the surveys that you complete!